Lonnie Poole Golf Course Honored for Sustainability Efforts
The North Carolina GCOA's Sustainability Award recognizes the ability to incorporate sustainability and environmental stewardship into operating practices.  Lonnie Poole Golf Course is the 2019 honoree.
As NC State's home course, the Lonnie Poole Golf Course is a new course, just celebrating its tenth anniversary this year. It is one of only two college golf courses that have been designated as a Certified Silver Audubon International Signature Sanctuary. This means that not only does the course utilize environmental guidelines, it means the course was actually built to meet all guidelines in construction.
Superintendent Brian Green highlights some of the requirements, "We have riparian buffers around streams and ponds to filter runoff. Our irrigation pond serves as a stormwater pond for our clubhouse, capturing water from storms and then slowly releasing it.  We also have 50 acres of naturalized areas with minimal care, just one mowing per year."
Green takes pride in being a model facility for environmental stewardship. They work hard to minimize the use of inputs such as fertilizers and pesticides.  Their minimalized practices limit the discharge of CO2.  Their fuel pad was specially engineered for protection during rain, thus there is no risk of discharge.
There is an abundance of wildlife on the property, including deer, foxes, ducks and other fowl, coyotes, hawks, and tons of bluebirds, thanks to their many bird boxes.
Walnut Creek flows through the property with no holes crossing the creek and 50-foot buffers along the creek edge. The buffers with mature trees help prevent erosion and provide habitat and corridors for wildlife.  All ponds are engineered to properly handle stormwater.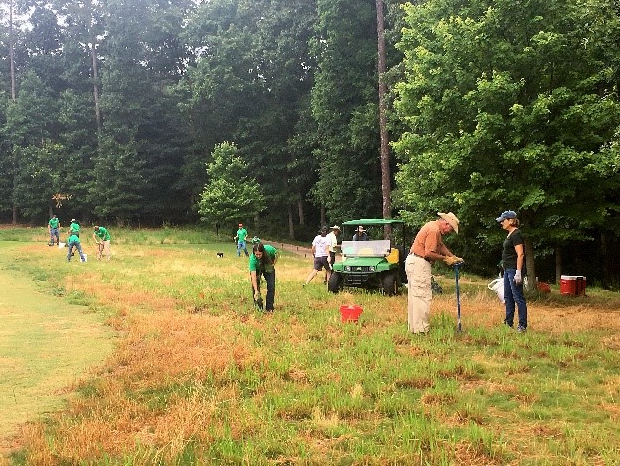 Green is particularly excited about the course's Monarch Butterfly Habitat.  Working with BASF and their Monarch Challenge program, LPGC established over 1,000 milkweed plants in their naturalized areas along with some wildflowers.  Since the milkweed plants were established in 2017, hundreds of monarch butterflies per year have utilized the plants for reproduction on their spring and fall migrations.
Green's maintenance practices meld well with the environment. They limit water usage and mow less frequently by using growth regulators. The often use slow-release fertilizers to limit any environmental impacts.  Up at the clubhouse, they have both a recycling program and a food composting program.
As a university course, LPGC is in the spotlight. They partner very closely with the turf scientists and professors at NC State's acclaimed Turfgrass Management program, where research is conducted on the course as a "living lab".  There are two current projects ongoing, one on the greens and one on the fairways.  NC State also has a PGM program, training future golf professionals, who work at the course. Turf student employees help make up the maintenance team.
When asked about the award, Green remarked, "This means we are doing things the right way and getting out the right message. It proves you can have both an environmentally friendly course, and one which is both fun and challenging to play!"
This post originally appeared in Campus Enterprises News.